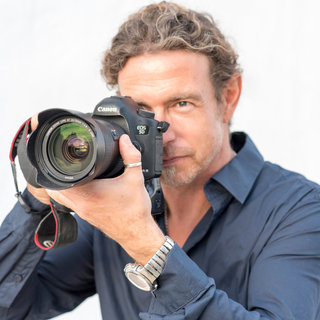 About:
I'm Arno a Ibiza based, international working celebrity, people and event photographer. Documentary editorial-style and contemporary imagery!
A half German and half Dutch guy who has been living and working in Ibiza since 1995. Living in this beautiful place where people usually just come on vacation. I'm so blessed to say I live in paradise!
Since my childhood I am passionate about photography. In 2001 I bought me my 1st digital camera (1500 Euro – 1,5 Megapixel) and I started with paid photo jobs. In the beginning it took photos of rental properties and later corporate events, parties, clubs and concert photography. Since 2008 i work constantly in event, fashion, people and lifestyle photography.
I am experienced in model set cards, fashion, bikini, lingerie, and live events such as concerts, sport events and parties. I love to photo shoot fashion & people with a touch of sexy, crazy, cool, rock n' roll and always with a high level of aesthetic and style. My work has been published in print and web magazines, billboards, musician's portfolios, print and web advertisements.
I always enjoy working as a photographer's assistant and location scouting (and have a lot of experience in this) and would love to gain more experience as a production agent. I have successfully organized a few photo shoots and really enjoyed bringing many of my talents together. In Ibiza i rent out professional photographic lighting equipment. (Several sunbounce reflectors, scrims & diffusers and portable flash units 1200ws + 500ws).
In 2012 I co-published a photographer's manual "how to become a concert photographer". So far only available in German;-) My 1st book –
@ Amazon Germany
Member of
DFJ
e.V.:
http://www.dfj-ev.de/en/
– the German Photojournalist Association
Shootings & Jobs – Elton John, Lenny Kravitz, Fanta 4, Rea Garvey (Reamonn), Sting, Pnau, Sven Väth, Richie Hawtin, Carl Cox, David Guetta, Jonas Blue, Fatboy Slim, Steve Angello, Danny Tenaglia, Luciana, Pete Tong, Luciano, Nervo, Sasha, Tiesto, Paul Oakenfold, Loco Dice, Azari &
III
, Diplo, Goldfish, Paul Kalkbrenner, Reboot, T.E.E.D.,
DJ
Koze, Wir sind Helden,
U.D.O. – Wacken Ibiza
,
Leo Jimenez – Wacken Ibiza
,
Noah Becker
,
Papis Loveday
,
Anastasia Sokolova
, Nina Beeh , Angelina Heger ,
vikki paramonova
,
Julia Yaroshenko
,
The Julia
,
Jamilla Deville
,
Lisette Krol Deville
,
Amy Hazel
,
Sarah Scott
,
Daniela Baumann
,
Nina Burri
,
Rylan Clark
, Lindsay Jay, Mirella Ingamells,
Judy Fitzgerald
, Ira Meindl, Antonia Hausmair,
Nina Burri 2016
,
Katetik at ibiza
,
Sarah Himeleh
,
Iryna Ivanova
,
Coco Prada
,
Paige Palmari
,
Constance Nunes
,
Summer Crosley
, Bilanz – Das deutsche Wirtschaftsmagazin,
Guardian Weekend Magazine
,
DIVA
, Schweizer Illustrierte,
FADDY
Magazine Issue 9 Vol 5, Fabulous Magazine, Gala Swiss Edition, Blick.ch, Blick Online, Pole Art Magazine, People Magazine, Boote Exklusiv, Bisous Magazine, Dailymail.co.uk,
FHM
Online,
HUF
Magazine, Partysan Ibiza Mag,
DUB
magazine, Pure Lebenslust , Süddeutsche Zeitung, The Telegraph ,
Maui Girl
,
Wings Hawaii
,
Illicia London
,
Spell
,
www.clhei.com 2016
,
www.clhei.com 2018
,
www.clhei.com 2019
,
Charo Ruiz
, Style-Heaven.com, Peng Ibiza,
Hard Rock Cafe Ibiza
, Wacken Ibiza Full Metal Cruise 2 – On Shore, DeRomy Bikinis,
Van Dalsky – luxury beachwear
,
MAP
Ibiza Boutique, Seabob.com, Das Comitee, Kontrastfilm,
IQ
Company,
IQ

UV SS2019
, Unclebob.be,
Tribu – Design Außenmöbel
, Fittea, Fitvia, Grand Hotel Ibiza, Es Vive Ibiza, Airbnb, Luxury Retreats,
Ibiza Haus
,
Ibiza

VIP

Villas
, Love it – Hate it, Summer Pole Camp, Loft1.ch, International Music Summit, 123 Festival, Líos Restaurant, Ushuaia Beach Hotel, Ushuaia Beach Club, Monza Ibiza Club, Amnesia Ibiza, Space Ibiza, Pacha Magazine Ibiza, Ibiza Spotlight, Book-mac.com, clickibiza.com, Deva Fashion, Deva Models, Eclectic Award 2012, Transatlantic Blow, Ministry of Sound, W-Hotels, Burn Energy Drink, Los Angeles Marathon,
UIM Class 1 World Powerboat Championship
,
UIM Aquabike World Championship
, Sotheby's real estate, Atzaro Events | Assistant Photographer & Location Scouting: Mayk Azzato, George Favios, Gavin Bond, Sandra Mira, Maria Simon, Benjamin de Wolff, Warner Music
UK
Ltd, Atlantic Records UK, James Blunt, Austria´s Next Topmodel 2012, in – Das Star & Style Magazin, Brigitte Women, Kek Mama Magazine, Fabulous Mama Magazine, Take It Easy Magazine – People.co.uk, Holland's Next Topmodel 2011, Vox – Auf und Davon, Fashion Navigator, Heine, White Ibiza,
FHM
England, Pro 7 – red! – Stars, Lifestyle & More Special (Germany`s Next Topmodel 2013), Playboy.de, Playboy.nl, Heine, Otto, Bon prix, Rtl, Vox, Pro 7, Wolford, Barbara Becker, Drama-Grill,